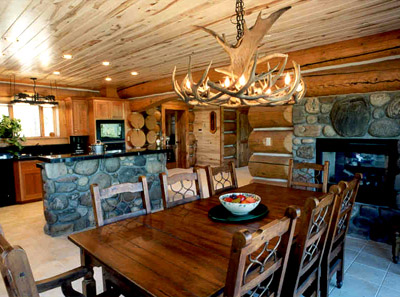 Who we build for...
Over the past three decades, Grand Lake Log Homes has built for a variety of people: real estate developers, corporate executives, doctors, resort owners, retirees, young couples, vacationers wanting a private get-away, entrepreneurs wanting to make an architectural statement and basic homeowners who want the best value for their money. The company's distinguished performance in carrying out projects with thorough attention to detail has enabled them to build repeatedly for the same clients who want to add on to their homes or resorts.
Grand Lake Log Homes encourages prospective clients to sign up at least six months in advance of needing their log shell. This allows adequate latitude to develop the construction drawings, schedule the project and carrying out the handcrafting process.
So whether it be lake-side, river-side, mountain-side, prairie-side, ocean-side, desert-side or meadow-side, just about any attractive piece of property is a candidate for receiving a Grand Lake Log Home.
Those interested in improving their environment and lifestyle should contact us today for further information.
Return to Front Page
All material on this site is copyrighted. Grand Lake Log Homes, Inc. grants permission to the individual to print the photos and text on this site from a personal printer for personal use.

Photo Credits