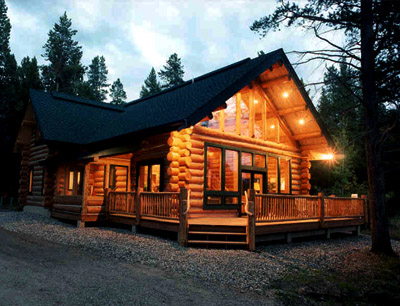 About our buildings...
All of the logs used in our buildings are Englemann Spruce, harvested while still standing dead in the national forests where they were allowed to dry naturally. This eliminates the need for extra contrivances necessary in construction done with green logs in many other parts of the country. Grand Lake Log Homes is a certified grader of house logs and the industry standards are strictly maintained, even exceeded, in choosing every log.
Each individual log is specifically selected for its prime location in a building. This keeps the log diameters consistent and makes for the best management of natural resources. Part of the handcrafting process is having the logs all peeled by hand with the use of a draw knife. This contributes to the character of the material and reveals the inherent beauty of the raw wood.
The laying out of each log shell is an exacting process where measurements are taken down to a small fraction of an inch to insure that the shell will eventually match the foundation for which it is intended. Adherence to critical dimensions and specifications continues throughout the fabrication of the entire log building. When done well, this demanding process, requiring a high level of craftsmanship, goes unnoticed. But the continued attention to detail pays off for the client immediately and many years down the road.
Once a log shell is completed at the company's log yard, the original building crew is dispatched to deliver and assemble that shell on the owner's foundation. The men who initially put the logs together in the unique design are obviously the ones most qualified to re-erect them at their permanent location.
Return to Front Page
Next Page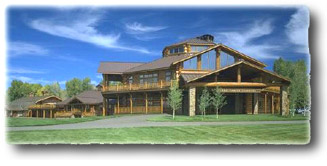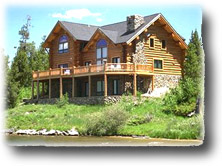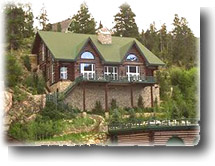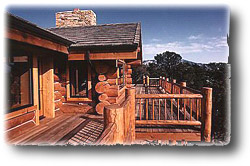 All material on this site is copyrighted. Grand Lake Log Homes, Inc. grants permission to the individual to print the photos and text on this site from a personal printer for personal use.

Photo Credits